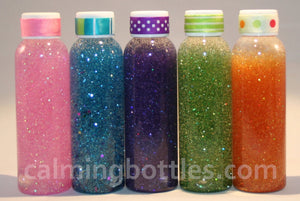 The original calming bottles, just....smaller.
This is a mini version of our larger calming bottles. These settle at around a minute, and can be thrown easily into a purse or diaper bag for a quick distraction when needed. Available in five colors - Pool Party, Deep Purple, Pumpkin Treat, Spring Grass or Princess Pink.
These bottles can soothe and calm, helping provide a positive focus for wellness and mindfulness. Bottles settle completely in about three minutes.
Glitter and small sparkly objects swirl in the bottle when shaken, then settle towards the bottom when put down. Bottles also contain an auditory factor - glass beads provide a soothing clacking sound when the bottle is rocked back and forth. Bottles are plastic and shatterproof, and caps are firmly affixed with glue. Item is for Theraputic purposes and is not a toy.
Common uses:
Calm down focus
Fidget Toys
Desk Toys
Occupational Therapy (OT)
Distraction during in-office medical procedures
Party Favors
Soothing for those that identify as on the Autism spectrum
Anger-management
Also known as "Time-Out bottles, Hush Bottles, Focus Bottles, Glitter Bottles and Sensory Bottles"
4.125" High X 1.25" Wide